If you're a dog owner, you may have wondered why dogs have a tendency to sniff each other's behinds. In this article, we'll explore the reasons behind this behavior, what dogs are communicating, and how to train your furry friend to stop sniffing other dogs' butts.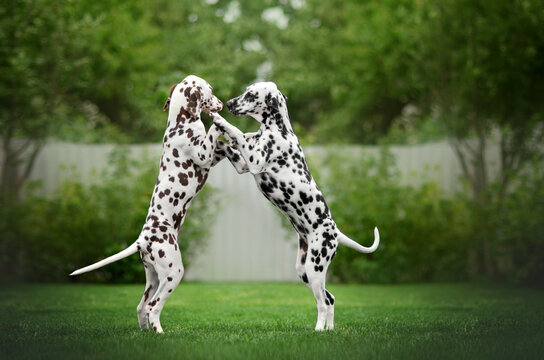 The Science Behind Butt-Sniffing
Dogs have a superior sense of smell compared to humans, with up to 300 million olfactory receptors in their noses. This means that dogs rely heavily on their sense of smell to gather information about their environment and other animals.
When dogs sniff each other's butts, they're gathering a lot of information. A dog's anal glands produce a unique scent that contains information about the dog's identity, health, and emotional state. By sniffing another dog's butt, a dog can learn a lot about them, including their age, sex, and reproductive status. They can also pick up on any potential health issues, such as infections or parasites.
What Dogs are Communicating
Essentially, dogs are exchanging information about themselves and gathering information about others through butt-sniffing. By sniffing another dog's butt, a dog is introducing themselves and learning about the other dog. This is similar to how humans shake hands when meeting someone new.
In addition to exchanging information, dogs also use butt-sniffing to establish dominance and hierarchy. The dog doing the sniffing is typically the one in a lower position, while the dog being sniffed is in a higher position. This is why you may notice dogs sniffing each other's butts during play or when meeting for the first time.
The Risks of Allowing Dogs to Sniff Each Other's Butts
While butt-sniffing is a natural behavior for dogs, there are potential risks associated with allowing them to do so. One risk is the spread of disease, as dogs can transmit infections and parasites through their anal glands. It's important to ensure that your dog is up-to-date on their vaccinations and parasite prevention medication before allowing them to interact with other dogs.
Another risk is that some dogs may become overly aggressive or dominant during butt-sniffing, which can lead to fights or injuries. It's important to supervise interactions between dogs and intervene if necessary to prevent any potential issues.
Using this Knowledge for Training
Understanding why dogs sniff butts can be useful when it comes to training your furry friend. For example, if your dog is nervous or anxious around other dogs, you can help them feel more comfortable by allowing them to sniff the other dog's butt. This will give them a chance to gather information and establish a connection with the other dog.
On the other hand, if your dog is overly dominant or aggressive towards other dogs, you may want to discourage butt-sniffing behavior. This can be done by distracting your dog with a toy or treat when they begin to sniff another dog's butt. You can also teach them a "leave it" command, which can be used to redirect their attention away from the other dog.
Sure, here's a new section, named "Case Study: How Sarah Trained Her Dog with Positive Reinforcement"
Sarah had always wanted a dog, and when she finally got one, she was determined to train it well. She had heard about positive reinforcement training and decided to use that method.
At first, she struggled to get her dog to obey. But she persisted, and after a few weeks of consistent training, her dog began to respond positively. Sarah was thrilled to see her dog eagerly following her commands and performing tricks.
One of the things that Sarah found helpful was to use treats as a reward. Whenever her dog did something right, she would give it a treat. This helped reinforce good behavior and motivated her dog to continue learning.
Another thing that Sarah did was to keep training sessions short and fun. She didn't want her dog to get bored or frustrated, so she made sure to keep things interesting by introducing new tricks and challenges.
Sarah also learned that patience was key. She didn't expect her dog to learn everything at once, and she was willing to work with her dog at its own pace. This helped build trust between them, and her dog became more eager to learn.
Overall, Sarah's experience with positive reinforcement training was a success. She was able to train her dog to be well-behaved and obedient, and they developed a strong bond in the process. Sarah recommends this method to anyone looking to train their dog.
Properly Introducing Dogs to Each Other
When introducing dogs to each other, it's important to do so in a controlled and supervised environment. Start by introducing the dogs on neutral territory, such as a park or other public area. Keep both dogs on a leash and allow them to sniff each other for a few seconds before separating them. Gradually increase the time that the dogs spend together, always monitoring their behavior and intervening if necessary.
Conclusion
Butt-sniffing is a natural behavior for dogs and is an important part of canine communication. By understanding why dogs do it and what they're communicating, you can better understand and train your furry friend. However, it's important to monitor interactions between dogs to ensure their safety and to prevent the spread of disease.
FAQ
What's the reason behind dogs sniffing each other's butts?
Dogs use their sense of smell to communicate with each other.
How do dogs gather information by sniffing butts?
They can detect hormones, pheromones, and other chemical signals.
Who do dogs sniff butts of?
They sniff the butts of other dogs as well as humans.
What if I don't want my dog to sniff other dogs' butts?
It's important to let dogs engage in their natural behavior, but you can redirect their attention with a command.
How can I train my dog to stop sniffing butts?
You can teach your dog to ignore other dogs' butts by redirecting their attention with a command or treat.
But isn't butt-sniffing gross?
While it may seem gross to us, it's a natural behavior for dogs and is an important part of their communication.