Are you wondering what ticks look like on dogs? Ticks are small arachnids that can be found in wooded areas, grassy fields, and even in your backyard. They are notorious for transmitting diseases to both animals and humans, which is why it's crucial to know how to spot and remove ticks from your furry friend. In this guide, we'll discuss everything you need to know about ticks and how to protect your dog.
What Are Ticks and Where Do They Come From?
Ticks are external parasites that live on the blood of mammals, birds, and reptiles. They belong to the same family as spiders and mites and can be found worldwide. Ticks go through four stages of development: egg, larva, nymph, and adult. They need a blood meal at each stage to survive and grow. Ticks can lay hundreds of eggs at a time and can quickly turn into an infestation.
What Do Ticks Look Like on Dogs?
Ticks are small, ranging in size from about 1/8 inch to 1/2 inch when fully engorged with blood. They have eight legs and a round or oval-shaped body. A tick's appearance can vary depending on its stage of development and the species. When ticks attach themselves to a dog, they usually burrow their head under the skin and feed on the dog's blood. A fully engorged tick can look like a small, dark, or reddish-brown bump on the dog's skin.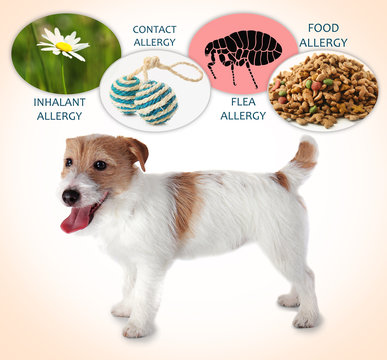 Where Do Ticks Commonly Attach to Dogs?
Ticks can attach themselves to any part of a dog's body, but they tend to prefer warm, moist areas such as the groin, armpits, ears, and in between the toes. It's essential to check your dog thoroughly for ticks after they've been outside, especially if they've been in an area known to have ticks.
How to Remove Ticks from Dogs?
Removing a tick from a dog requires careful attention to avoid leaving the tick's head behind, which can cause infection. Here are the steps to remove a tick safely:
Use tweezers or a tick removal tool to grasp the tick as close to the dog's skin as possible.
Pull the tick straight out with steady, even pressure, without twisting or squeezing.
After removing the tick, clean the area with rubbing alcohol or soap and water.
Dispose of the tick by flushing it down the toilet or placing it in a sealed container.
It's essential to monitor your dog for any signs of illness after a tick bite, such as fever, lethargy, or loss of appetite. If you notice any of these symptoms, contact your veterinarian immediately.
How to Prevent Ticks on Dogs?
| Tick Prevention Product | How it Works | Pros | Cons |
| --- | --- | --- | --- |
| Spot-on Treatments | Applied to the back of the neck, kill ticks on contact | Effective, easy to apply, long-lasting | May cause skin irritation, may not be effective against all tick species |
| Tick Collars | Release tick-repelling chemicals around the neck and head | Effective, can be long-lasting | May cause skin irritation, may not be effective against all tick species |
| Oral Medications | Given once a month, prevent ticks from attaching and feeding | Effective, easy to administer | May cause digestive issues, may not be effective against all tick species |
Preventing ticks on dogs is essential to protect them from tick-borne diseases. Here are some tips to help prevent ticks from attaching to your dog:
Use tick prevention products such as spot-on treatments, collars, or oral medications prescribed by your veterinarian.
Keep your dog's coat well-groomed, as ticks can hide in matted fur.
Check your dog regularly for ticks, especially after being outside.
Avoid walking your dog in heavily wooded areas or long grass.
Keep your yard well-maintained by mowing the lawn regularly and removing any debris or brush piles.
Pros and Cons of Using Tick Prevention Products
Pros
Tick prevention products are an effective way to protect your dog from ticks and tick-borne diseases.
They are easy to use and come in various forms such as spot-on treatments, collars, and oral medications.
Tick prevention products are available with prescription from your veterinarian, ensuring that your dog is getting the right dosage and treatment.
Cons
Some dogs may have an allergic reaction to tick prevention products, causing irritation or discomfort.
Tick prevention products can be expensive, depending on the type and brand.
Some tick prevention products may not be effective against all tick species.
Case Study: The Importance of Regular Tick Checks
I remember when my neighbor's dog, Max, got infected with Lyme disease from a tick bite. Max was always an active and healthy dog, but his owners had never checked him for ticks. One day, Max started to show symptoms such as lethargy, lack of appetite, and fever. His owners took him to the vet where they found out he had Lyme disease. The vet explained that if caught early, Lyme disease can be treated with antibiotics, but if left untreated, it can cause serious health problems.
Max's owners were devastated but took immediate action to get him treated. The vet gave him antibiotics, and they started to check him regularly for ticks. They also started using tick prevention products recommended by the vet.
After a few weeks of treatment, Max started to show signs of improvement. His appetite returned, and he was more energetic. His owners were relieved and now make sure to check him for ticks regularly.
This experience was a wakeup call for me, and I realized the importance of regular tick checks for my own dog. It's easy to forget to check for ticks, but it only takes a few minutes and can prevent serious health issues. I now make sure to check my dog for ticks every time we come back from a walk in the woods or a hike in the mountains.
Conclusion
Ticks are a common pest that can pose a significant threat to your dog's health. Knowing what ticks look like on dogs and how to remove them is essential for every dog owner. By following the preventative measures outlined in this guide and considering the pros and cons of tick prevention products, you can help protect your dog from tick-borne diseases and ensure they stay happy and healthy. If you have any concerns about ticks or your dog's health, don't hesitate to contact your veterinarian.
Common Questions
Question: Who is at risk for tick infestations in dogs?
Answer: Dogs who spend time outdoors in wooded areas.
Question: What do ticks look like on dogs?
Answer: Ticks on dogs are small and round with eight legs.
Question: How can you prevent ticks on dogs?
Answer: Use tick prevention products, check your dog regularly, and avoid wooded areas.
Question: Who should remove ticks from dogs?
Answer: A veterinarian or trained professional should remove ticks from dogs.
Question: What happens if ticks are left untreated on dogs?
Answer: Ticks can transmit diseases to dogs, including Lyme disease.
Question: How can you tell if your dog has ticks?
Answer: Check your dog's skin for small, round bumps and look for any signs of discomfort or itching.