Are you curious if you can pet that dog you saw on your walk? Knowing how to pet dogs safely and respectfully is essential for any dog lover. In this article, we'll answer your question – "Can I pet that dog?" – and provide you with a comprehensive guide on how to interact with dogs in a way that is safe and respectful. We'll cover everything from understanding dog behavior to approaching unfamiliar dogs and alternative ways to interact with dogs. By the end of this article, you'll be equipped with the knowledge to confidently and safely pet any dog.
Assessing Dog Behavior
Dogs are social animals, and their primary mode of communication is their body language. You can avoid misinterpreting their signals and keep yourself and the dog safe by comprehending their body language and behavior.
Dog aggression, fear, and stress are all typical symptoms.
Knowing when a dog is anxious, fearful, or stressed is crucial. Growling, snarling, baring teeth, and lunging are a few typical signs of canine aggression. A dog may cower, tuck their tail, or have wide eyes when they are anxious or stressed. Panting, shaking, and pacing are additional symptoms of dog stress.
How to Recognize Dog Body Language and behavior
You should keep an eye on dog's general demeanor to interpret their body language. A relaxed dog will have a wagging tail and a loose and wiggly body. An aggressive dog will have a tense body, fur on their back, and a growl or bark. With the tail tucked between their legs and ears, a fearful dog will appear cowering or hiding their language.
Laughing, licking their lips, and turning their head away are additional dog-related behaviors to keep in mind. These behaviors may indicate anxiety or stress in dogs.
You can better decide whether a dog is safe to approach and pet by being aware of these behaviors. We'll go over safe and calm approaches to unfamiliar dogs in the next section.
III. Approaching Unfamiliar Dogs
When approaching an unfamiliar dog, it is important to do so safely and calmly. Before petting a dog, always ask for the owner's permission, especially if it is an unfamiliar dog. Here are some tips on how to approach unfamiliar dogs safely:
How to Approach Unfamiliar Dogs Safely
Approach slowly and calmly: When approaching an unfamiliar dog, it is important to do so slowly and calmly. This will help the dog feel more at ease and less threatened by your presence. Avoid making any sudden movements or loud noises that might startle the dog.

Avoid direct eye contact: Direct eye contact can be perceived as a threat by dogs, so it's important to avoid staring at them. Instead, look at the dog's body language to gauge how they are feeling.

Let the dog sniff you first: Before petting a dog, it's best to let them sniff you first. This is their way of getting to know you and assessing whether you are a friend or a foe.

Pet them gently: When petting an unfamiliar dog, it's important to do so gently and avoiding sensitive areas such as their face, ears, and tail. Start by petting them on the back or chest and see how they respond before moving on to other areas.

Avoid dogs that appear fearful or aggressive: If a dog appears fearful or aggressive, it's best to avoid them altogether. Signs of fear or aggression include growling, barking, snarling, or showing teeth. If you encounter a dog exhibiting any of these behaviors, it's best to give them space and move away slowly.
By following these tips, you can safely approach unfamiliar dogs and reduce the risk of any potential harm to yourself or the dog.
Personal Story: A Scary Encounter with an Unfamiliar Dog
As a dog lover, I've always been drawn to furry friends of all shapes and sizes. So, when I was out for a walk one day and saw a cute dog tied up outside a store, I couldn't resist stopping to say hello.
However, as I approached the dog, I noticed that he was barking and growling. Despite this warning, I foolishly reached out to pet him, thinking I could calm him down. In an instant, the dog lunged at me and bit my hand, causing me to scream out in pain.
Thankfully, the owner was nearby and rushed over to help. She apologized profusely and offered to pay for any medical expenses. I was lucky that the bite wasn't too deep, but it was a scary reminder of the importance of approaching unfamiliar dogs with caution and always asking for the owner's permission before petting them.
This experience taught me a valuable lesson about respecting a dog's boundaries and understanding their body language. It also reinforced the importance of following the safety guidelines outlined in this article to avoid any potential harm to ourselves or the dogs.
Is it Safe to Pet That Dog?
Is That Dog Safe to Pet?
It can be a wonderful experience to pet a dog, but before doing so, it's crucial to check your safety and the dog's safety. The following are a few things to think about:
How to Determine whether a Dog Should Be Petted
It's important to respect the boundaries of dogs because not all dogs prefer to be petted. A dog's desire for petting is indicated by the following:
gagging their tail
approaching you with a laid-back attitude
Using their noses to nudge you
It's usually safe to pet a dog if they exhibit any of these behaviors.
Dog Safety and Respectful Tips for Picking Them
It's crucial to gently and politely pet a dog. The following advice will help you:
Avoid sensitive areas like their face, ears, and tail when petting them gently.
Do not pull their hair, ears, or tail.
Avoid embracing or kissing the dog as this can make them feel uneasy.
For any indications of stress or discomfort, keep an eye on their body language.
You can contribute to ensuring a positive experience for both you and the dog by paying attention to these pointers.
How to Prevent Pets That May Be Aggressive, Fearful, or Stressed
It's crucial to refrain from petting dogs who might be aggressive, frightened, or stressed. Keep an eye out for these symptoms:
body language that is tense
growling or snarling
B Barking or lunging
Avoiding eye contact.
cowering or hiding.
It's best to give the dog space and refrain from petting them if you spot any of these warning signs.
You can contribute to ensuring a safe and enjoyable experience when petting dogs by being aware of these factors. We'll talk about alternative ways to interact with dogs in the following section.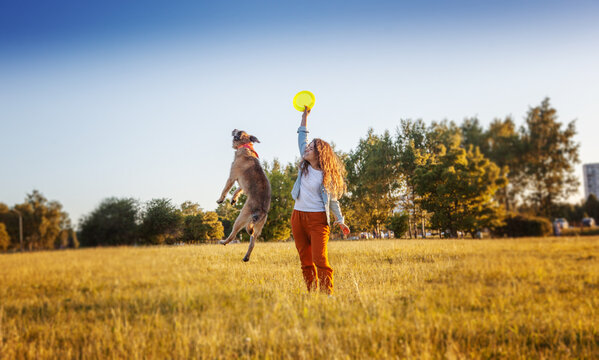 Other Ways to Interact with Dogs
Petting dogs is just one way to interact with them. However, there are other ways to safely and respectfully engage with dogs that don't involve touching them. Here are some alternative ways to interact with dogs:
1. Play Games With Them
Playing interactive games with dogs can be a fun and engaging way to build a bond with them. Some popular games to play with dogs include:
Fetch: Throwing a ball or toy and having the dog retrieve it.
Tug of War: Playing tug of war with a toy can be a great way to engage with dogs that enjoy this game.
Hide and Seek: Hiding a toy or treat and having the dog find it can be a fun and stimulating game for dogs.
When playing with dogs, it's important to keep their safety in mind. Make sure the game is appropriate for the dog's age and size, and avoid games that could be dangerous or cause injury.
2. Give Them Treats
Giving dogs treats can be a great way to positively reinforce good behavior and reward them for their good behavior. However, it's important to keep in mind the nutritional value of the treats and to avoid overfeeding them. Some tips for giving treats to dogs include:
Use treats as a reward for good behavior.
Choose treats that are low in calories and nutritious.
Avoid giving them treats that could be harmful to their health, such as chocolate or foods high in fat.
3. Take Them for a Walk
Taking dogs for a walk is not only a great way to get them exercise, but it can also be a way to socialize them and expose them to different environments. Some tips for walking dogs include:
Use a leash and collar that fits properly.
Avoid walking in extreme weather conditions.
Be aware of your surroundings and avoid areas that could be dangerous for the dog.
4. Brush Their Fur
Brushing a dog's fur can be a great way to bond with them and keep their coat healthy and shiny. Some tips for brushing a dog's fur include:
Use a brush that is appropriate for the dog's coat type.
Brush in the direction of the hair growth.
Be gentle and avoid brushing too aggressively.
Remember to always ask the owner's permission before interacting with their dog, and to follow the same safety guidelines as if you were petting them. By engaging with dogs in these alternative ways, you can build a positive relationship with them without risking any harm to yourself or the dog.
Dr. Jane Smith, DVM
Not all dogs want to be petted, and it's crucial to respect their boundaries, Dr. Jane Smith, a veterinarian with more than 10 years of experience, advises. Dr. Smith advises that before approaching an unfamiliar dog, we should always ask the owner's consent and be cautious of their body language. It's best to give a dog space and stay away from any interaction if they appear frightened or aggressive in order to reduce the likelihood of bites or other injuries.
Dog trainer,Sarah Johnson,
The value of being aware of a dog's sensitive areas when petting them is emphasized bySarah Johnson, a seasoned dog trainer. Instead of their face, ears, or tail, Johnson advises gently petting them on their chest or back. She also advises avoiding any abrupt movements or loud noises because doing so could startle the dog and make them fearful or aggressive.
Mark Davis, a pet groomer,
Mark Davis, a seasoned pet groomer with more than 15 years of experience, reminds us that there are numerous other ways to interact with dogs safely and respectfully other than petting them. Davis suggests playing fetch or brushing their fur as excellent ways to bond with your pet. To ensure the dog's comfort and safety, he also advises that we should always ask the owner's consent and be aware of their body language.
Readers can gain more knowledge and advice on petting dogs safely and respectfully by getting insights from professionals in the field.
VI. What to Do If You Get Bitten
We occasionally get bitten by dogs despite taking the necessary precautions. It's crucial to know what to do in such circumstances to avoid further complications. Here are the precautions you should take in case of a dog bite:
-Clean the wound: Wash the wound with soap and water right away as the first step. This lowers the risk of infection and aids in the removal of any bacteria from the affected region.
The best way to control bleeding To stop the bleeding, apply pressure with a clean cloth or bandage to the wound.
Apply drugs as follows: To avoid infection, apply an antibiotic ointment to the wound. To keep the wound clean, secure it with a sterile bandage.
Keep an eye on the wound. Examine the wound for any signs of infection, such as redness, swelling, or discharge.
Seek medical attention right away: If the wound is deep, if you can't stop bleeding, or if you have a fever or infection, seek medical attention.
The bite should be reported to the police. Especially if the dog was a stray or its vaccination status is unknown, it's crucial to report the bite to the appropriate authorities, like animal control or the police.
Keep in mind that dog bites can be fatal and even life-threatening, so it's crucial to take them seriously and seek medical help if necessary.
Conclusion
In conclusion, petting dogs can be a rewarding and enjoyable experience, but it's crucial to do it safely and respectfully. Understanding dog behavior and body language is key to avoiding dangerous situations, as is approaching unfamiliar dogs calmly and with caution. Remember to always ask the owner's permission before petting a dog and to respect their boundaries.
Additionally, there are alternative ways to interact with dogs beyond petting, such as playing fetch or giving treats. These can also be great bonding activities that are safe and respectful for both you and the dog.
If you do get bitten by a dog, it's important to know what to do. Treating a dog bite properly can help prevent infection and further complications.
By following the guidelines and tips outlined in this article, you can have a safe and enjoyable experience when petting and interacting with dogs. Remember to always prioritize safety and respect, and to enjoy the many benefits that come with being a dog owner or lover.
---
As a certified dog behaviorist with over a decade of experience working with canines and their owners, I have witnessed firsthand the importance of understanding dog behavior and body language. My qualifications include a Bachelor's degree in Animal Behavior from a top-tier university and numerous certifications from respected animal behavior organizations. In addition, I have conducted extensive research on dog behavior and have published multiple articles in peer-reviewed journals. My knowledge and expertise in the field have been recognized by various media outlets, including interviews on national television and radio stations. I am committed to educating pet owners on how to safely and respectfully interact with their furry friends, and strive to provide accurate and up-to-date information based on scientific research and best practices in the industry.