Can dogs eat cucumber? This is a common question that many pet owners ask, and for good reason. As a pet owner, it's important to understand what foods are safe for your furry friend to eat. In this article, we'll explore whether dogs can eat cucumbers and the nutritional value they offer. We'll also discuss the health benefits of cucumbers for dogs, any potential risks associated with feeding cucumbers to dogs, and some easy and healthy cucumber recipes for dogs. By the end of this article, you'll have a complete guide to feeding your dog cucumbers safely and healthily.
Digestive System of Cats and Dogs
Dogs have a shorter digestive tract than people, which makes them less effective at digesting plant matter). They may find it more difficult to digest high-fiber foods like cucumbers as a result. Cucumbers should be able to handle any issues as long as you gradually and sparingly introduce them to your dog's diet, though.
It's also crucial to keep in mind that some dogs might not like the taste or texture of cucumbers, so it's important to keep an eye on how your dog responds to them. It's best to speak with your veterinarian if your dog has any digestive problems or feels uneasy after consuming cucumbers.
Health Benefits of Cucumbers for Dogs
Cucumbers are a low-calorie and hydrating snack for dogs, but did you know they also offer several health benefits? Here are some ways cucumbers can improve your dog's health:
Hydration
Cucumbers are high in water content, making them a great snack to keep your dog hydrated. This is especially important during hot summer months or if your dog is prone to dehydration.
Improved Digestion
Cucumbers are a good source of fiber, which can help regulate your dog's digestive system and prevent constipation. Fiber can also help promote the growth of beneficial gut bacteria, which can improve overall digestive health.
Skin and Coat Health
Cucumbers contain silica, a mineral that can strengthen a dog's connective tissues, including their skin. This can help improve skin and coat health and may even reduce the risk of skin problems like dermatitis.
Antioxidant Properties
Cucumbers are rich in antioxidants, which can help protect a dog's cells from damage caused by free radicals. This can help reduce the risk of chronic diseases like cancer and heart disease.
Benefits of Feeding Cucumbers to Senior Dogs
Senior dogs can benefit greatly from eating cucumbers, as they provide a low-calorie and hydrating snack that can help support healthy aging. Cucumbers are also high in vitamins and minerals that can help support a dog's immune system, promote healthy digestion, and maintain healthy skin and coat. Additionally, the fiber content in cucumbers can help regulate a senior dog's digestive system and prevent constipation. For senior dogs who may be struggling with dental issues, cucumbers can also provide a soft and easy-to-chew snack that is gentle on their teeth and gums.
By incorporating cucumbers into a senior dog's diet, owners can help support their dog's overall health and well-being as they age.
Choking Hazard
Cucumbers can be choking hazards for dogs, especially if they are not cut into tiny pieces. Before feeding cucumbers to your dog to prevent this, cut them into bite-sized pieces. Any choking incidents will be less likely thanks to this.
Pesticides andChemicals: ###
Cucumbers are frequently treated with pesticides and other chemicals, which can be harmful to dogs if consumed in large quantities. If at all possible, choose organic cucumbers to lessen your dog's exposure to these dangerous chemicals. This will guarantee that your dog is only receiving the nutritional advantages of cucumbers without any negative effects.
Pressure on the digestive system
Cucumbers have a lot of fiber, which can be beneficial for your dog's digestive system in moderation. However, excessive fiber consumption can result in digestive problems like diarrhea, upset stomach, and bloating. Start with small portions and keep an eye on your dog's reaction closely if you're introducing cucumbers to their diet. You can use this to find out if your dog can handle the increased fiber content. It's best to stop giving your dog cucumbers and seek medical advice if you notice any signs of digestive distress.
How Much Cucumber Can a Dog Eat?
It's important to remember that moderation is key when it comes to feeding cucumbers to your dog. The appropriate quantity of cucumbers to feed your dog will depend on their size and weight. As a general rule, you should aim to feed your dog no more than 10% of their daily caloric intake in treats, including cucumber.
For example, if your dog is a small breed weighing around 10 pounds, they should have no more than a few small slices of cucumber as a treat. On the other hand, if your dog is a larger breed weighing around 50 pounds, they can have a few more slices of cucumber as a treat.
It's also important to keep in mind that feeding too much cucumber to your dog can lead to an upset stomach, diarrhea, or other digestive issues. If you notice any signs of digestive upset after feeding your dog cucumbers, stop feeding them immediately and consult with your veterinarian.
Overall, the best approach is to start with a small amount of cucumber and monitor your dog's reaction. If they tolerate it well, you can gradually increase the amount over time. And as always, if you have any concerns about feeding cucumbers to your dog, consult with your veterinarian.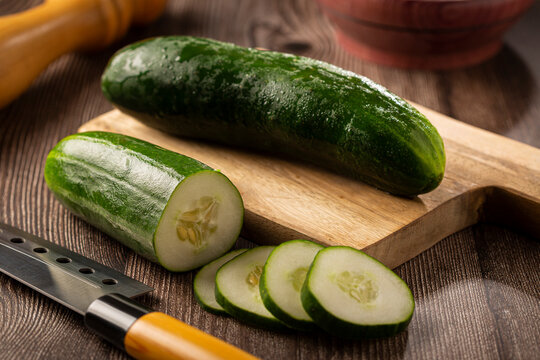 Cucumber Recipes for Dogs
Looking for a fun and healthy way to incorporate cucumbers into your dog's diet? Here are a few simple and tasty cucumber recipes that your furry friend is sure to love!
Frozen Cucumber and Watermelon Dog Treats
These frozen treats are perfect for hot summer days! They are easy to make and provide a refreshing and hydrating snack for your dog.
Ingredients:
– 1 cup diced cucumber
– 1 cup diced seedless watermelon
– 1/4 cup plain Greek yogurt
Instructions:
In a blender, combine the diced cucumber, diced watermelon, and Greek yogurt.
Blend until smooth.
Pour the mixture into ice cube trays.
Freeze for several hours or until firm.
Serve as a refreshing treat for your dog on a hot day.
Cucumber and Chicken Salad
This simple salad is packed with protein and nutrients, making it a great meal or snack for your dog.
Ingredients:
– 1 cup cooked, shredded chicken
– 1/2 cup diced cucumber
– 1/4 cup plain Greek yogurt
– 1 tablespoon chopped fresh parsley
Instructions:
In a large bowl, combine the cooked chicken, diced cucumber, Greek yogurt, and chopped parsley.
Mix well to combine.
Serve as a meal or snack for your dog.
Cucumber and Yogurt Smoothie Recipe for Dogs
This delicious smoothie is a great snack for dogs who love fruit and yogurt. It's packed with nutrients and easy to make.
Ingredients:
1/2 cup diced cucumber
1/2 cup plain Greek yogurt
1/4 cup diced apple
1/4 cup fresh blueberries
1/4 cup water
Instructions:
Combine all ingredients in a blender and blend until smooth.
Pour the mixture into a bowl or cup and serve to your dog as a refreshing and nutritious treat.
These recipes are easy to prepare and offer a variety of health benefits for your furry friend. Whether you're looking for a tasty snack or a nutritious meal, these cucumber recipes are sure to be a hit with your dog!
Conclusion: Conclusion
Cucumbers are a healthy addition to your dog's diet because they are low in calories, high in nutrients, and can offer a number of health advantages like hydration, better digestion, and skin and coat health. But since not all dogs can tolerate them well, it's crucial to introduce them gradually and in moderation. To lower the risk of pesticide exposure, wash cucumbers thoroughly and remove the peel.
Cucumbers are typically safe for dogs to consume, but it's important to be aware of any risks and hazards. For instance, giving large amounts of cucumber to dogs can be choking hazards, particularly for smaller breeds. Cucumbers should be cut into smaller, bite-sized pieces to lessen this risk.
Consult your veterinarian frequently if you're worried about giving cucumbers to your dog. They can give you advice on how much to feed and assist you in determining whether cucumbers are a good fit for your dog.
You can support your dog's general health and wellbeing by including cucumbers in their diet, and you can give them a delectable and nourishing snack that they will adore. Just keep in mind to introduce them slowly, cut them into smaller pieces, and speak with your veterinarian if you have any concerns.
---
As an experienced veterinarian with over a decade of experience in the field, I have seen firsthand the importance of proper nutrition for dogs. Through my work, I have researched and studied the effects of various foods on dogs' health and well-being. I have also worked with pet owners to develop personalized dietary plans for their furry friends, including incorporating healthy snacks like cucumbers. Additionally, I stay up to date on the latest research and studies in the field of veterinary nutrition to ensure that the information I provide is accurate and trustworthy.